Get Relief from Bad Odors – Safe & Fast!
Over 10x More Effective than Baking Soda!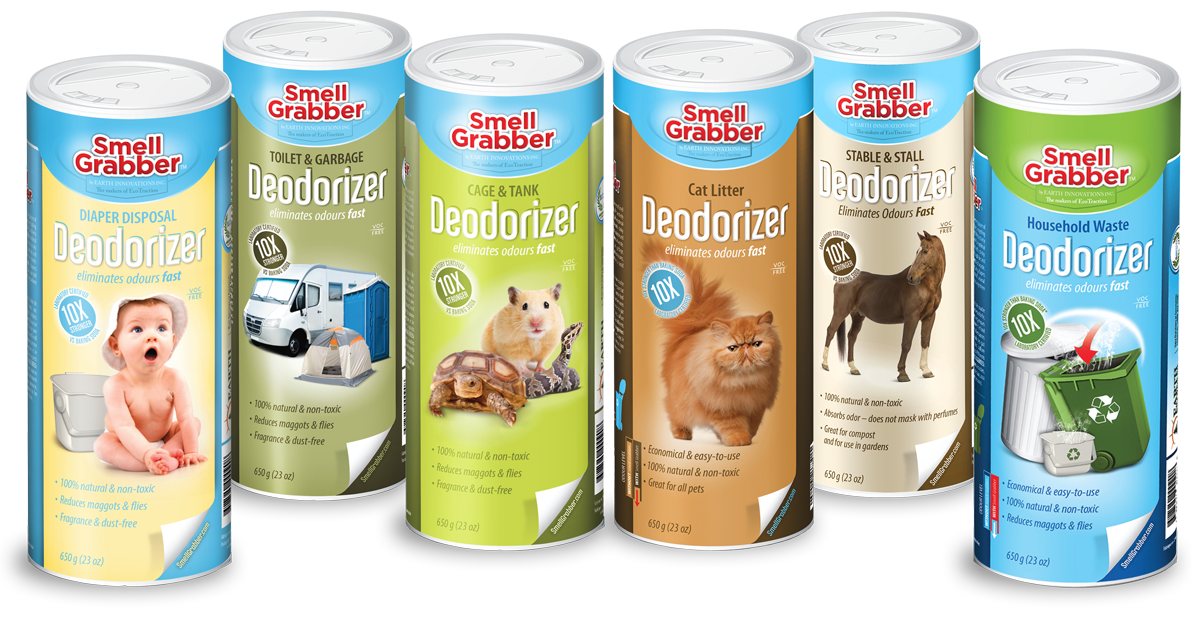 Seeking a Safe, Effective and Chemical-free Odor Control Solution?
Smell Grabber naturally eliminates the worst odors, including:
Stinky garbage & green compost bins
Smelly mildew (it also helps to reduce moisture)
Nauseating diaper pails
Dirty cat litter (all pet urine & poop odors)
Cages for small animals
Outhouses & temporary toilets
Carpet stench (sprinkle and vacuum)
And much more!
Smell Grabber is Powerful but Safe:
Made of 100% natural, non-toxic mineral
Over 10x more effective than baking soda
Quickly eliminates odors instead of temporarily masking them
Removes ammonia, methane and hydrogen sulphide
Safe to touch, will not harm people or pets
Phthalates-free and fragrance-free
Did You Know?
Many air fresheners contain various unhealthy chemicals like phthalates that can cause hormonal abnormalities, birth defects and reproductive problems as per the Natural Resources Defense Council (NRDC).
Learn more.
Economical & Easy to Use:
Simply sprinkle this granular mineral as needed
One container can last up to 3 months
Testimonials
"I love your Smell Grabber for Diaper Pails. Adding the Smell Grabber to my nappie bin has totally cleared the air."
Jessica S - United Kingdom
"I had added Smell Grabber deodorizer to the bin (food waste) before I left (for vacations) and to my amazement there was not one bit of smell. No flies. Nothing gross. Just decomposed food waste. Smell Grabber was totally amazing and I am a total convert."
Liz D - Ontario, Canada
"I have been battling mildew and mildew smells in my basement for years. I used your product… and found that not only did it take away the mildew smell, but it has continued to absorb the bits of condensation that have been responsible for my problems."
Bruce R - Toronto, Canada
"Your product is fantastic at eliminating the odors from the fridge in our office… I would recommend this stuff to anyone."
Helga F - Vaughan, Ontario
"We have 2 cats and a small amount of Smell Grabber added to the litter each day keeps it odour free. The results have been amazing!"
Cathy B - Whitby, Ontario
Follow us on Facebook and Twitter